Foundation:
1. the lowest load-bearing part of a building, typically below ground level.
2. an underlying basis or principle.
Editor's Letter
Like a kid who's just taken the stabilisers off their bike and is trying to find their balance, 2016 for me can only be described as "wobbly". But I've held on and pushed through, and now suddenly I'm doing wheelies and saving up to buy that much coveted Chopper (thanks Stranger Things). There's been big changes and I felt like I've changed too, I've had a lot to think about, a lot to wonder where my life is heading. And now I've opened a new chapter of my life I'm trying to shape things into how I want my life to be, what I want to get from it. Be the person I am but also strive to be the person I want to be. These changes and new thoughts I've had has manifested itself in my blog. For those of you who read my blog before, you'll see how different it is. My previous blog posts were just of the bog standard sort, which didn't fulfil me creatively so I stopped. So I'm setting some new foundations for my life, and now my blog. Madizine is going to be a zine about Madi and how mad I am about zines. That was the aim from the beginning, but I lost my way a little. Now, with the stabilisers off, I'm back on track.
Feature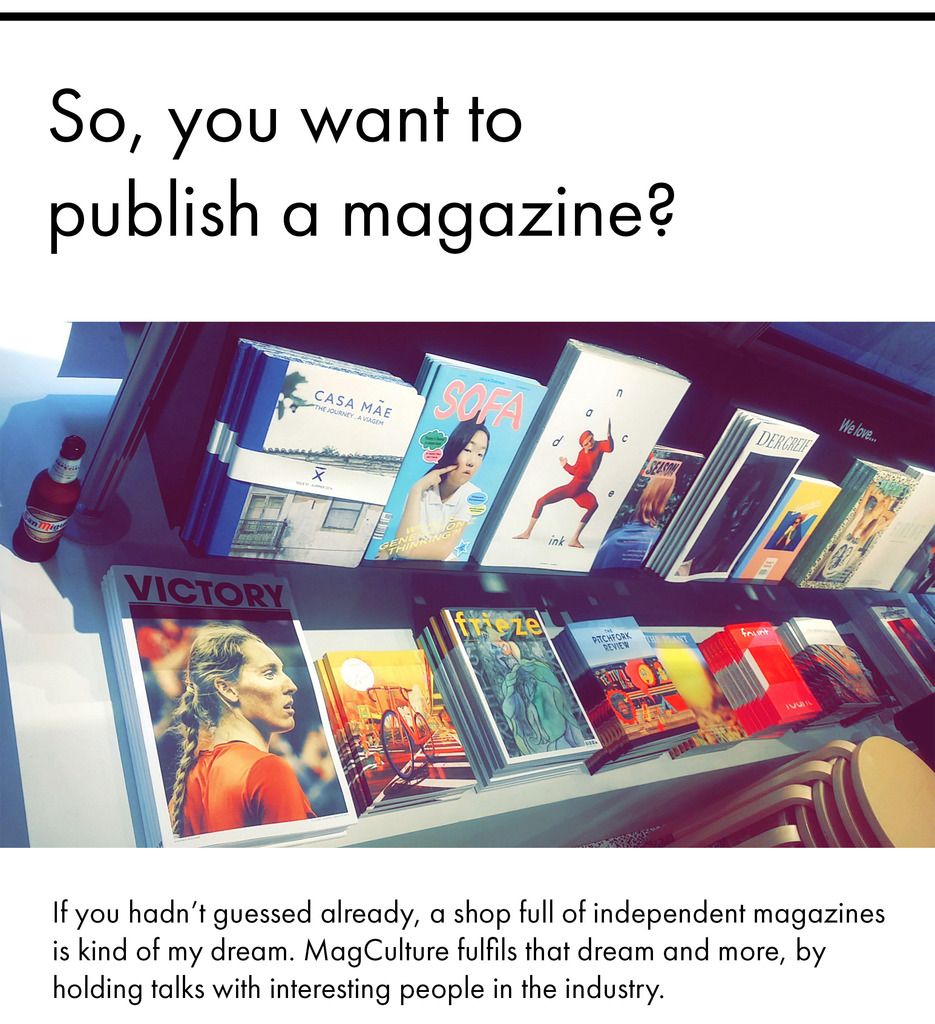 I recently attended an event there which showcased a new book called "So You Want to Publish a Magazine?" with a talk from the author followed by a Q&A. As I flicked through the mags on sale before the presentation began, my heart rejoiced in the sheer number of people doing exactly the same thing. Long live independent mags!
Angharad Lewis, author of said book and contributor to Graphik, interviewed lots of different independent magazine owners to try and discover the winning formula to being successful in a 'dying' market. For the MagCulture event, she whittled down her top eight tips and tricks for making your way into the indie mags market:
1. Have a great phenomenal idea
Angharad displayed a quote direct from her book: "you need to be able to justify the fact you'll be killing hundreds of trees". Is there an audience for your idea – this has to be the first thought in your head if you want to be successful. Her favourite examples of magazines creating a twist on a typical genre is Anorak, the children's magazine, and Riposte.
2. Be prepared for there to be 10 times more hard work than you imagine
Mainstream magazines have whole offices behind their content yet are still struggling, so independent creators need to be prepared for some hard graft. Angharad used the example of the two editors behind the successful Eye Magazine – yes they write the articles and create the layouts, but they also do the admin jobs of ordering barcodes and organising orders.
She added that her aim for the book was not to answer all questions but to help avoid pitfalls and mistakes that are made over and over again.
3. Think print, act digital.
Although everyone at the event were all obvious lovers of print, Angharad advised that digital and online are both our friends. A lot of magazines have regretted not focusing as much attention on their digital presence from the very beginning.
4. Be realistic
Wrap, the magazine which has beautiful graphic illustrations on one side of their pages and editorial on the others, were only a couple of pages thick for their first issues. But the strong concept was there, and as they got more popular they were able to expand.
5. Do the sums (and make some money)
Angharad knew finances were a thorny issue so she made sure that she spoke to every publisher about it so new magazines could learn from it. Some magazines are self-funded, such as LAW – and the editor even sold their dream car to finance it! She concurred that you not only need to think of the initial funding but also the ongoing sustainability.
6. Work with your friends
This was the point that Angharad was really passionate about – she told us how you can really hear the tone of voice when a close team work on a magazine together, e.g. in Oh Comely. She used Dazed & Confused as another example – the zine was started off by a real group of people that had formed a sub-culture and the magazine reflected that.
7. Perfect a publishing model
Everything needs to be really thought through: what will the frequency of the publication be, will there be adverts, how will you get revenue, what will the weight of the magazine cost to send?
Works that Work magazine was an example of a publication with a very unique method: social distribution. If a reader is going somewhere – whether down the street or to another country – they can contact the magazine and basically become a magazine mule! They will be given instructions on where to drop off the mags… and they do this for free, with the guarantee that they'll probably meet someone interesting at the other end.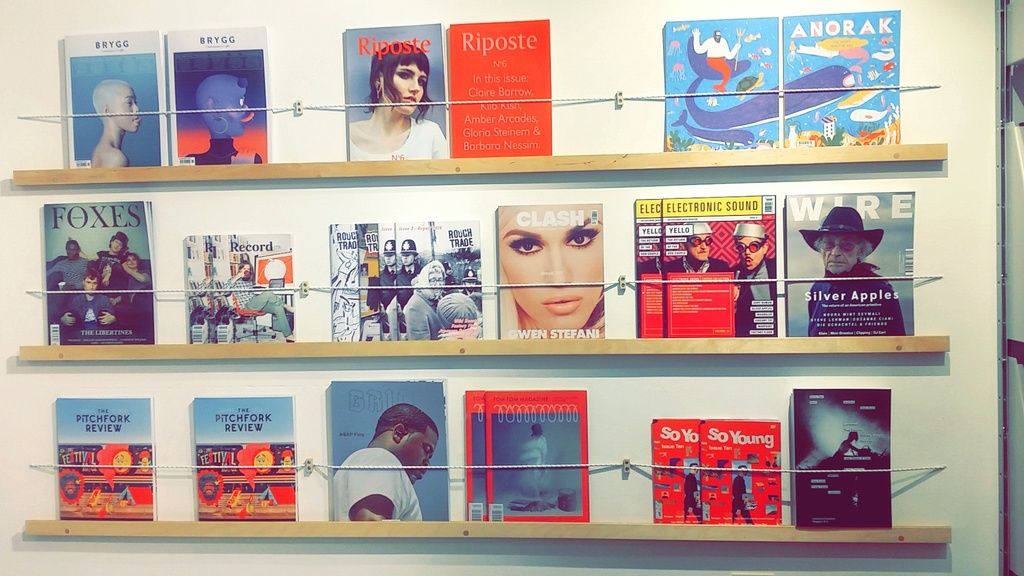 8. Evolve, invent, expand, celebrate!
If your magazine gets to a certain stage, it survives and there is a good working model then you can start bringing in new things and flex your creative muscles. A good example of this is Cereal Magazine – creator Rosa is incredibly ambitious. Their first issue had a print run of 1,500 but within 2 years this had increased to 25,000. Her advice? "You can't just sit there."
Finally, Angharad concludes, if you've got this far: time to party.
Him + Her
I joke that I'm only with him for his coding skills. He has got me strongly into strong coffee and leaving teabags in my green tea. He wants to be a life coach and is practicing those skills on me, holding me when I cry in frustration at a part of my life I don't know how to fix. Giving me sound advice. He is forcing me to cook but forcing me in a nice way. I did my first tumble dry because of him, despite me continuing to call it "the pointless machine". We already have an imaginary dog together. He's a good head taller than me but I still insist my legs are longer. We giggle non-stop.
It's just really bloody nice.
On Repeat
For my first magazine review, I decided to review the brilliant magazine Bitchslap.
Next issue
I hope you enjoyed the first issue of the relaunched Madizine. If you have any comments please email me at hello@madizine.co.uk. Otherwise, stay tuned for the next issue which will be a special edition. Here's a hint: I'm going to ModMag 2016 tomorrow…